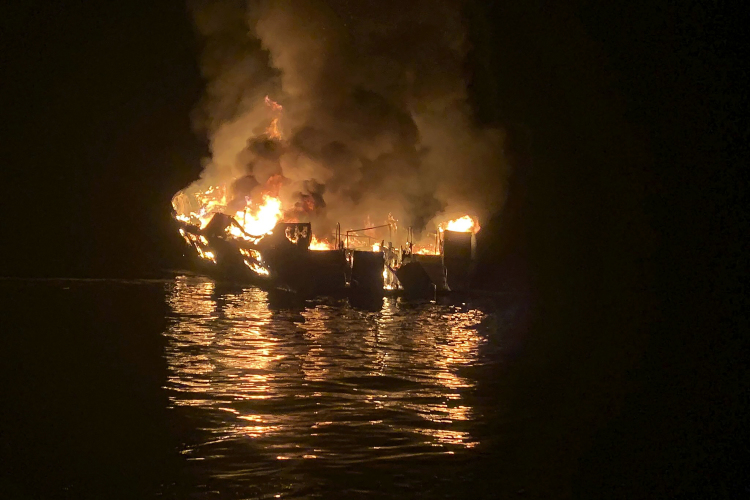 Hundreds of pages of documents from the National Transportation Safety Board (NTSB) were released last Wednesday detailing the final fatal hours of the commercial scuba diving vessel Conception that was engulfed in flames off the coast of Santa Barbara on September 2 of last year. The Associated Press reports that while the cause of the fire remains undetermined, witness testimony reports sparks and pops seen from the outlets where 20-30 devices were plugged in. 34 people were killed in this blaze, one of the worst maritime events in California's history, as the passengers slept below the ship. While the Conception had passed recent inspections, a number of other errors were cited, including a lack of a roving watch, smoke detectors that did not alarm, and an escape hatch in the galley of the ship that was not identified to passengers.
The gravest finding of all was that none of the crew were trained on emergency procedures, with one account stating that when he asked the captain about it, Capt. Boylan allegedly said "when we have time." Boylan, one of only 5 people to survive, faces criminal charges, while the boat owners and the boat company face multiple claims filed by the victims' families. 
OSHA requires preparedness plans by companies, large and small, while the National Fire Protection Association reports that all emergency planning and drills should be coordinated with the local fire department, as fire departments can be relied on for technical expertise. It takes hours and hours of training for the fire department to acquire their expertise. innovaPad is proud to support these efforts by collecting and returning money to fire departments. With the funds used from the innovaPad program, fire departments have sent their staff for additional education and training. Don't leave resources on the table.